There are lots of little tricks that you can use to up the value of your home, or property that you are investing in, but an immediate hit with prospective buyers is flooring.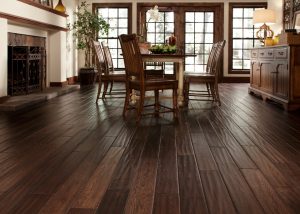 (source)
It can be the difference between zero interest and a high-end offer, so it's important that you keep your flooring well maintained. Because it's a present factor in every room of any house, and the fact it affects the appearance of everything else in proximity, a shabby floor could leave property buyers turned off.
Fit hardwood flooring
If you're reading this and don't already have hardwood flooring in your home, you owe it to yourself to fit it as soon as you can. Hardwood flooring is highly desirable because of its easy-clean finish, timeless appeal and smooth appearance.
With hardwood flooring, you can easily fit underfoot heating systems, plus the timber retains heat much more effectively than with other materials. What was once considered something exclusively for the wealthy, is now readily accessible thanks to modern means of production. Today, anybody can install hardwood flooring in their homes with ease, and without necessarily breaking the bank.
Even if the potential buyer doesn't like hardwood flooring, it's still preferable to a home with wall-to-wall carpeting because it holds a great deal of options to the buyer.
If they want to fit a carpet with a colour and pattern that suits them, then they're free to simply place it above the hardwood, as opposed to ripping up dull carpeting and replacing it.
Sand your floor periodically and practice good aftercare
All flooring is going to show wear and tear over time, and spilling drinks or plates of food is going to leave nasty stains. One of the other amazing perks of having hardwood flooring is that you can maintain its gorgeous aesthetic by utilising an electric dust-free sander.
The top layer of hardwood flooring will inevitably lose its shine over time, but with a quick sanding from a high-quality electric sander, you can clear away the dull top layer to reveal another layer underneath that will look good as new.
You can even time your sanding to coincide with a viewing of your property to show how well you care for and maintain the residency, so you can really impress your potential buyers. You won't want to constantly be sanding your hardwood floor, though, so it's always a good idea to treat your floor with aftercare products once you've finished the sanding process.
There are many types of aftercare products available, such as acrylic floor lacquer or gap filler, which can help the hardwood stay smoother for longer, boost its water-resistant qualities, or simply offer a more noticeable sheen.
Well-maintained hardwood flooring could become the primary selling point of your home. The versatility of wood flooring and the potential to keep it looking amazing for many years with little effort helps make any home highly desirable.
Floor Sanders London carries a comprehensive range of hardwood sanders for hire, plus a plethora of aftercare products that will keep your flooring strong and attractive for many years. Browse our site for a full list of the products we offer.