Hardwood flooring has grown massively in popularity in recent years and is now one of the most common choices for flooring in the home because of its durability, low maintenance, and how easy it is to clean. It can even add value to your home. While materials such as laminate or even tiles can emulate the look of hardwood they will never be as good as the real thing.
Trends do of course change over time. It's important to pick a style of hardwood flooring that suits your style rather than picking something just because it is in fashion. Consider how it will look with your choice of paint colour and the style of your kitchen, but don't be scared to commit to hardwood flooring in case you're worried that you might change your mind in the future. One excellent property of real hardwood flooring is that over its lifespan it can be refinished and dyed to match new trends or to suit a room that you've redecorated. This isn't something that can be done with cheaper styles of wood flooring.
In 2021 the trend for hardwood flooring tends to either be towards dark and light colours, or cooler and browner tones. Warmer tones tend to be less popular and with cool and brown tones the trend is to not pick colours that contain much yellow.
For the kitchen, you should give a great deal of thought to using dark coloured woods as they can show dirt more easily than lighter colours which may increase how often you need to clean the floor. While dark colours undoubtedly look impressive, and colours such as solid black and greys are certainly very popular at the moment, light colours are also popular and may be better suited to a kitchen as they won't show up every single spec of dust.
The trend for light colours focused on cool and brown tones removes the yellow hues from the wood to give a clean, modern look. A lighter floor will also create the illusion that the room is bigger than it is, unlike a dark floor which may make the room feel more enclosed. Popular lighter colours include lighter shades of grey and even whitewashed flooring.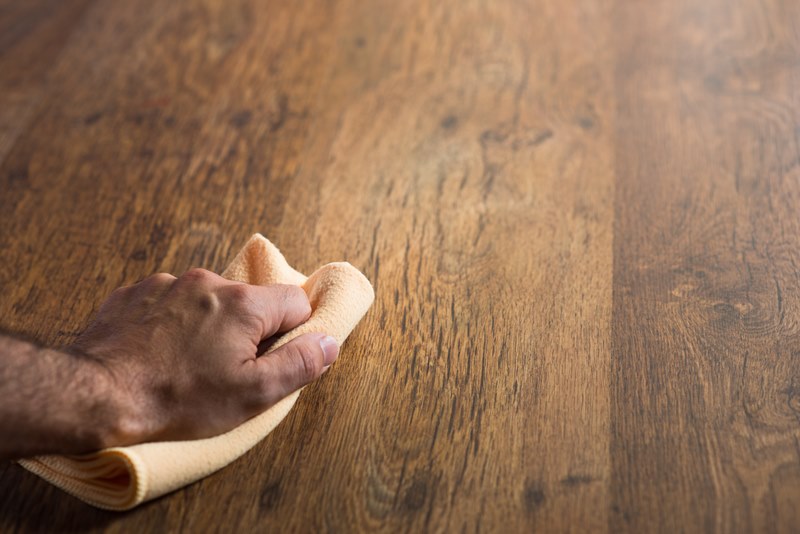 Once you've chosen a colour for your kitchen flooring it's important to also pick the style of finish you want the wood to have. If you've got glossy cupboards and countertops you might want to consider a matte or satin finish to contrast the rest of the kitchen. Matte and satin finishes are easier to clean which is a big bonus in a room where things such as food spillages will be fairly common. If you've got natural wood cupboards with a flat finish a shinier colour on the flooring will create a floor that's a real eye-catcher.
Contact us 
If you would like to find out more about how we can help you, get in touch today on 020 8427 6604 or head over to our contact page for more details.